Happy New Year!, 2-Year Anniversary, & Prizes
First and foremost, we hope you have a happy and prosperous New Year! 'Tis the time for making resolutions that you will keep, will hope to keep, or make up just to say you had one.
We have a resolution for you! We will have a new look by the end of the month! We've changed our look a couple of times in the past two years. The funny part is that we did it ourselves, and neither time did it look like we really wanted it to. This time we're hiring a professional. It will debut before January closes out. We hope you'll like it!
The Stupid Criminal File is turning 2 years old in a couple of weeks ... January 19th, to be exact. Our first "official" post was about $1400 in speeding tickets within in four hours. We're going to repost that one for kicks.
Our pet project became popular: 5,706,528 page loads and 2,067,794 unique visitors since we started. Thank you! We want to celebrate and offer a token of appreciation. Oh, and a sarcastic growl goes out to Female Law Power for spilling the beans:)
Here's what we are going to do. We have two $15 gift certificates from Amazon.com. We're going to give one away to someone who has subscribed to receive an e-mail whenever the SCF has a new post. We'll give the other one to someone who has a link on their blog or website that points to our SCF. Cool, eh?
Here's how it works:
1) On the right sidebar, there is an form to subscribe to receive an e-mail whenever a new post is added to the blog. The form looks like this: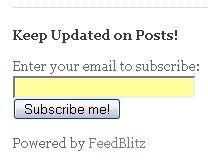 Simply enter your e-mail and click subscribe me! You will receive an e-mail with a link to confirm your subscription, and viola, your done! On February 1st, we'll print the subscriber list, throw the email addresses in a hat and pick the winner.
2) If you have a link to the SCF on your blog or website, send us an e-mail at
kicknit4u02@msn.com
by January 31st. On February 1st, we'll print all of the e-mails, fold 'em half, throw 'em in the hat, and pick the winner.
Good thing I bought that big cowboy hat on our last trip down to Texas, eh?
Again, HUGE thanks to everyone who keeps checking in our our blog, the Stupid Criminal File!